Three UCLA students win national recognition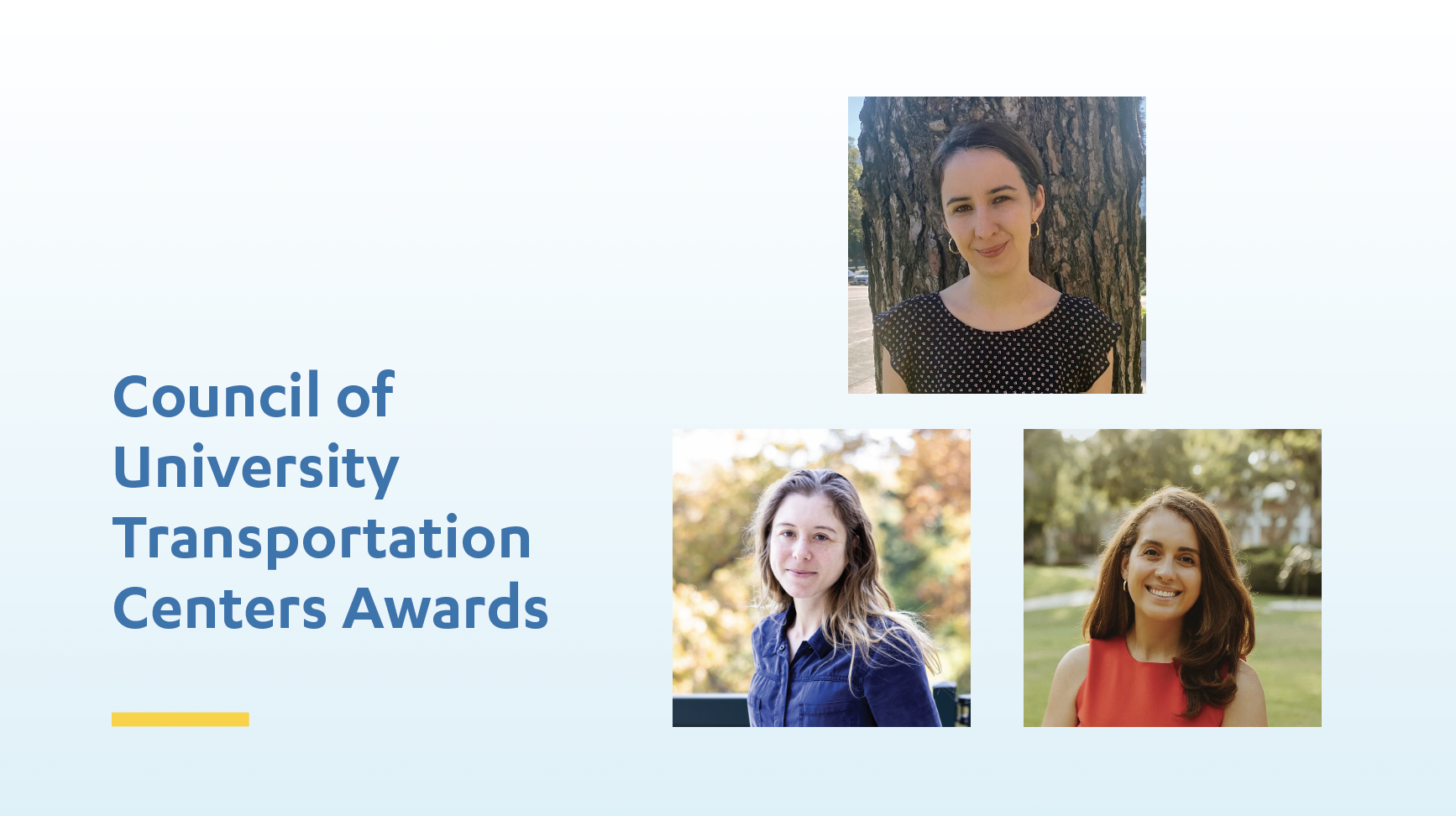 UCLA students received three of the top national transportation research awards by the Council of University Transportation Centers.
The CUTC was established in 1979 to represent transportation research centers and organizations across the country and connect their research to government and industry. Each year, students from across the country are recognized for best doctoral dissertations, master's theses, master's projects and overall accomplishment.
During a Jan. 7 ceremony in Washington, D.C., Julene Paul, doctoral candidate in urban planning, was recognized as the Pacific Southwest Region (PSR) UTC Outstanding Student of the Year; Miriam Pinski Ph.D. '22 received the Charley V. Wootan Memorial Award for best dissertation; and Nataly Rios Gutierrez MURP '22 was awarded the Neville A. Parker Award for best master's project.
Julene Paul — Outstanding Student of the Year
The Outstanding Student of the Year award is based on students' overall research and academic accomplishments as well as professional and leadership qualities. Paul's research focuses primarily on multimodal transportation access and informal carsharing. She has written and published research articles on transit ridership patterns in California, spatial mismatch, and work-from-home behaviors for urban and rural residents, among other topics.
"Over the past few years, I've enjoyed working and collaborating with researchers from throughout our UTC," she said. "The PSR UTC has provided opportunities to present research — in my case, on different aspects of transportation equity and informal vehicle-sharing — to a larger academic and policy community.
"As researchers, we're lucky to have partners from other universities studying similar issues while using different methods and approaches. Working across the UTC provides the opportunity to share knowledge and enhance our policy impacts," she said.
Miriam Pinski — Best Dissertation
Pinski received the Wootan Award for best doctoral dissertation in the field of transportation policy and planning for her work delving into the history of the driver's license in California and how license suspensions have become a tool for enforcing certain rules and generating revenue. Her research showed that while the average driver is able to avoid these punitive measures and suspensions, there is a hidden license regime that overwhelmingly affects low-income drivers of color. Their licenses can be suspended due to a variety of non-driving-related violations (e.g., truancy, vandalism, child support delinquency).
A suspended license often exacerbates existing issues and financial burdens. In her dissertation, Pinski also noted that California and other states have historically relied on individual license suspensions as a response to traffic violations instead of prioritizing widespread traffic-calming and safety measures.
"I truly enjoyed working on my dissertation, both because the history of driver's license policy is so relevant to our current approach to road safety, public finance, and so much else, and because it gave me the opportunity to collaborate with experts in various fields," Pinski said. "I appreciate my committee's support, as well as UCLA ITS and the CUTC for this recognition."
This is the fourth time a UCLA student has won the Wootan dissertation award since 2001.
Nataly Rios Gutierrez — Best Master's Project
The Parker Award is handed out annually to two students with the best non-thesis master's project in either transportation policy and planning, or science and technology. Rios Gutierrez took this year's planning prize. Her capstone project focused on the transportation patterns of un/underinsured patients of the Saban Community Clinic in Los Angeles, which serves a predominantly Latino population.
She used spatial analysis to examine patients' residential locations and their transportation needs and barriers, uncovering that patients with unreliable transportation access (e.g., those who rely on public transportation or being driven by someone else) are more likely to delay or miss important services, often exacerbating health and financial issues. She also conducted patient surveys and evaluated the clinic's ride-hailing program. Rios Gutierrez discussed several recommendations to mitigate these challenges, including increased appointment flexibility and coordinated efforts between the clinic and local transportation providers.
"Clinics and transit operators both have a responsibility to help patients get to and from their health care appointments reliably and inexpensively," Rios Gutierrez said. "Moving forward, I hope that these providers and agencies can work together to better understand the needs of their low-income patients, advocate for increased funding for transit operations, and create programs to overcome these barriers."
This is the twelfth time a UCLA student has won the Parker Award since 2002.
This article originally appeared on the UCLA ITS website.