LA shows off its new bike infrastructure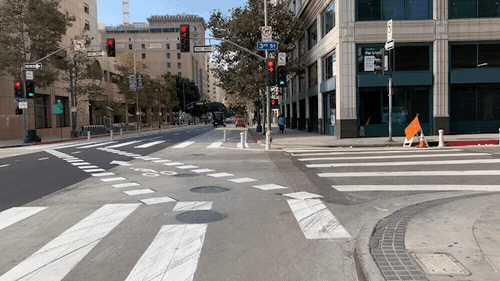 It might seem strange to look to Los Angeles for inspiration on bicycle infrastructure. But recent investments might cause planners and policymakers to reconsider.
Last week LA brought together 800 transportation practitioners from around the world at Designing Cities 2018, the annual conference for the National Association of City Transportation Officials (NACTO). It was also a chance for the city to show off its latest investments in bicycle, pedestrian, and transit infrastructure to an international crowd.
MyFigueroa, the six-mile redesign of Figueroa Avenue, conveniently opened in August and terminates at the site of the conference in Downtown LA. Leading up to the conference, LADOT fine-tuned the project, addressing the "bike lane taxi zone" and other concerns by installing additional bollards and working with taxi companies.
The bicyclist experience on MyFig is a drastic improvement from the previous design and can serve as a model for other cities looking to reconfigure dangerous roads. Today, separate signals for bicycles and right-turning vehicles prevent conflicts…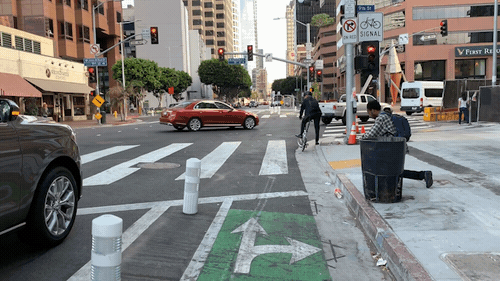 …bus stop islands provide more comfortable and convenient boarding for transit riders…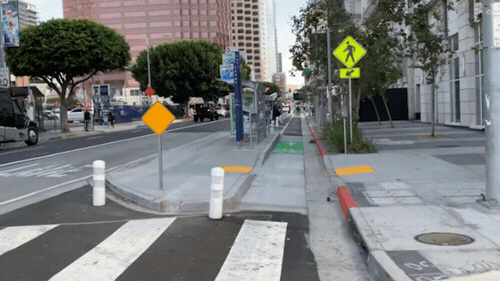 … and bollards on protected bicycle lanes designate safe space for bicyclists (most of the time).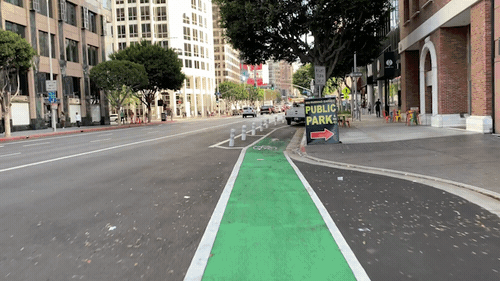 The success of MyFig — and its areas for improvement — may have been the talk of the conference, but NACTO also highlighted other exciting improvements happening around LA. The conference set aside time for numerous guided "WalkShops" to explore initiatives and projects around the city. I volunteered on "If These Streets Could Talk," a bike tour that explored the future of industrial streets in the Arts District.
On our way back from the Arts District, our group traveled down Spring Street — my first time doing so since earlier this summer. I was pleasantly surprised to see many of the elements from MyFig incorporated into "Main & Spring Forward," part of a broader initiative to improve traffic safety in Downtown LA. As on Figueroa, bicycles now have a wide, protected lane on Spring with designated signals to prevent conflicts with turning vehicles.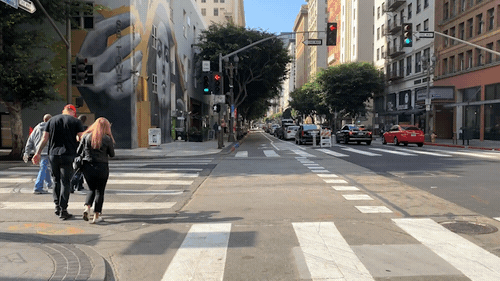 This infrastructure is certainly an improvement over its previous state, which resembled Main Street's current buffered (yet unprotected) bicycle lane.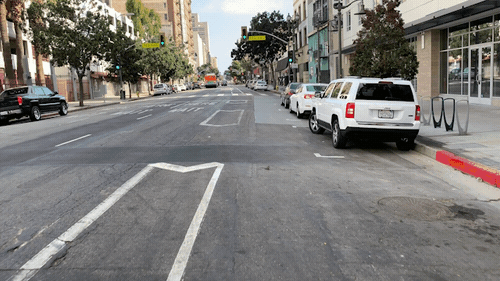 One of the more unique elements of Spring Street's redesign is a bicycle-only cycle at 3rd Street, where bikes cross diagonally through the intersection to move from the western side of the road into their protected lane on the eastern side. This provides bicyclists a more direct route than a left turn box, for example.
My first attempt through the intersection after the conference wasn't pretty — the vehicle next to me ignored all signs for "No Right on Red" and started rolling through the intersection during the bicycle signal. This wasn't necessarily a design flaw (there were plenty of signs and signals to let the driver know this turn wasn't allowed), but rather may be the result of driver ignorance or a cavalier defiance of this new rule.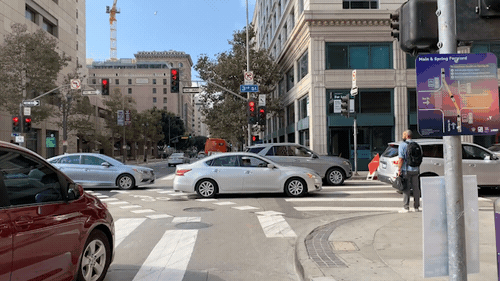 (I'm fine, thankfully!)
My next attempt proved to be more successful and comfortable. Right-turning cars obeyed the signage, and I glided through the intersection without any problems. There's something truly empowering about getting your own signal as a bicyclist. It shows that the city values you and your safety — that you are just as important as someone in a car.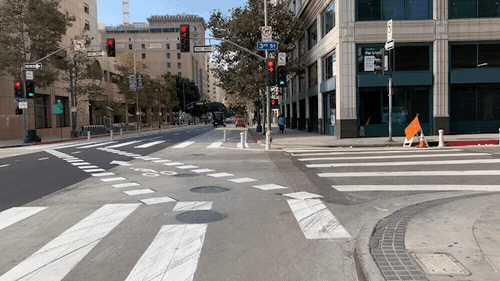 While there are still improvements that need to be made, especially with the enforcement of parking and turning rules, recent investments in bike infrastructure near downtown highlight the possibilities for Los Angeles and, with NACTO in town, other cities around the world. As more bicyclists and drivers alike encounter this new infrastructure and see its benefits, let's hope that support for similar improvements across LA will grow.