How will LA's new complete street measure up?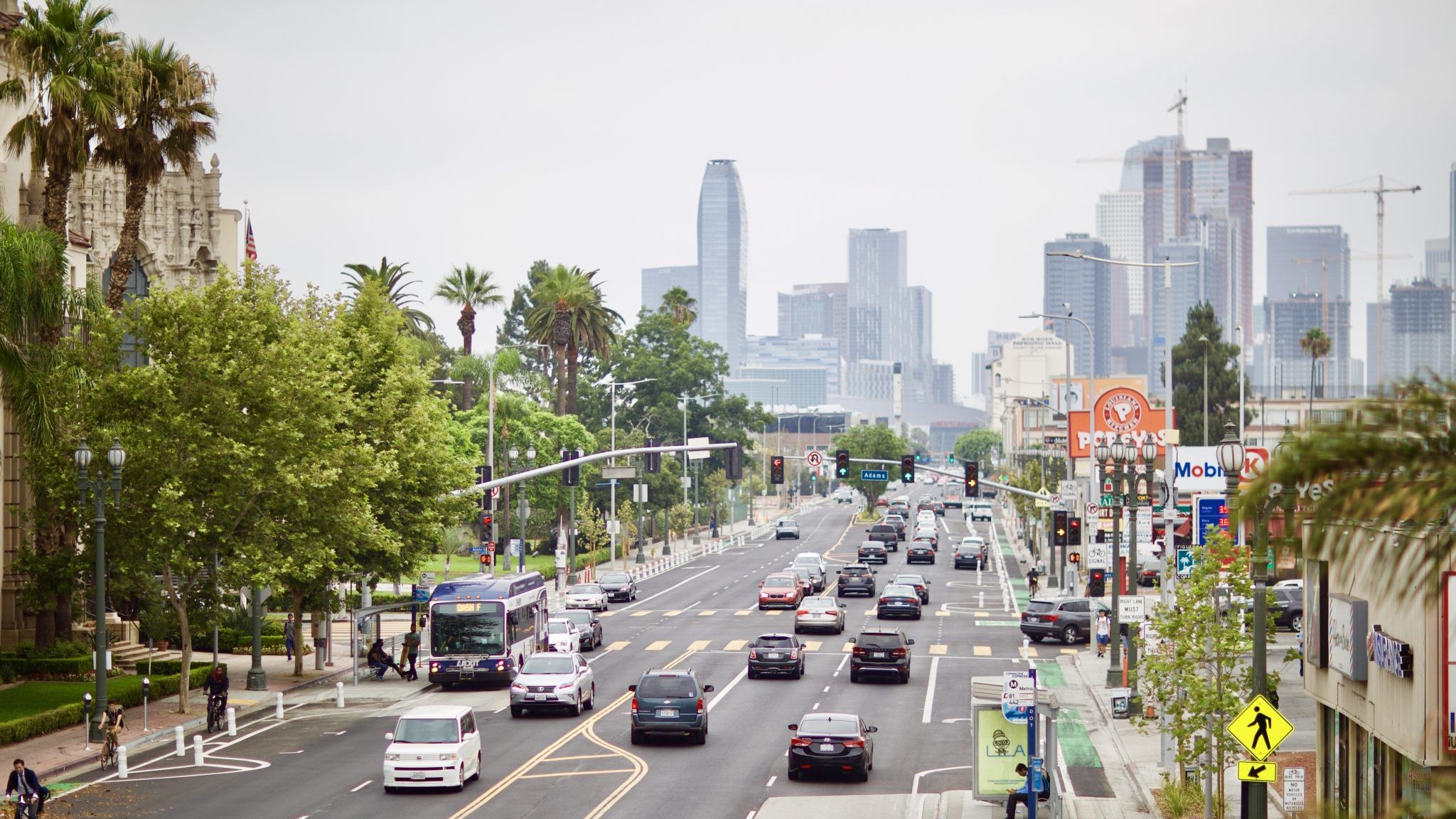 Knowing how and when to call MyFigueroa a success
The $20 milion MyFigueroa project opened last month with great fanfare. The six-mile redesign of Figueroa Avenue from USC to Downtown Los Angeles was a long time coming, the first of its kind in LA, and a potential model for future projects.
The project is worth celebrating. This stretch of Figueroa was a dangerous, disorganized, barrier to safe travel between downtown and the Exposition Blvd. corridor.
Delivering the project was a major accomplishment for the city. But going forward, how will its success be measured?
The problem is that we don't know yet. In the most recent LADOT strategic plan, one of the short-term actions is to "establish a project screening methodology and evaluation protocol that reflects the values of the Department, including safety and equity."
With this evaluation protocol in development, I want to take this opportunity to discuss what types of data might help determine project success.
As a pragmatic step, I first referenced what the project said it was trying to achieve – early stated project goals. Here is a snapshot of project goals from the project plan in 2009 (yes, 9 long years ago…).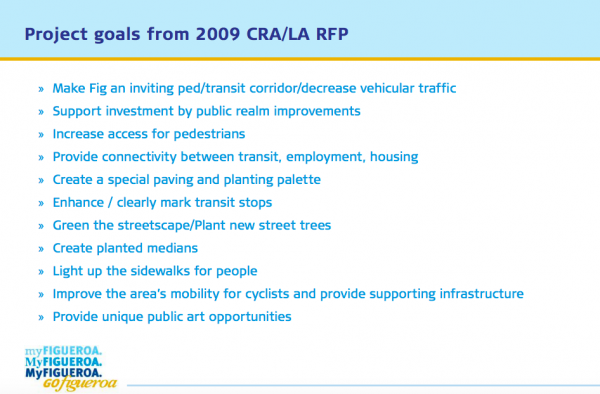 Many goals relate to creating the project's street design, while fewer relate to how it will operate. And operational aspects like "increase access" and "improve mobility" are difficult-to-measure goals that currently have no standardized measurement approach.
Below, I assembled a list of goals and associated data that could be used to measure MyFig's potential success. The table below is organized into two categories:
How people use the corridor
How people feel when using the corridor, a somewhat indirect measure of overall quality
Measuring use is more straightforward than measuring quality. But use can only tell us so much. Quality may help to better tweak and refine the project as it continues to be used. Both use and quality will affect the project's ultimate success or failure.
Table 1: Use Goals and Data Sources
Goal
Data Source
Notes
Reduce Crash incidents
UC Berkeley Transportation Injury Mapping System (TIMS) 2018 data, which will be available around March 2019
Figueroa is part of the High-Injury Network so reducing crashes and their severity is vitally important.
Increase bicycle volumes
To be collected by LADOT using either a number of days of short-duration (2- hour) counts or longer-duration (2 weeks, automatic counters)

The City of LA does not have a citywide annual count program for bicycle and pedestrian volumes. An annual count program was included in the LA 2035 Mobility Plan but has not been launched. After data collection, make sure to make them publically accessible through the  

UCLA bicycle count data clearinghouse

or the

LA Open Data website

.

Increase pedestrian volumes

To be collected by LADOT using either a number of days of short-duration (2- hour) counts or longer-duration (2 weeks, automatic counters)

Increase transit ridership

Ridership data from Metro and DASH services

Even stabilizing ridership could be a good sign given the current regional transit ridership declines.

Table 2: Quality Goals and Data Sources
| | | |
| --- | --- | --- |
| Goal | Data Source | Notes |
| Improved cycling experience for all | To be collected through a user survey. The "for all" part of this goal means the positive results need to be felt and seen by men and women and the young and old. | User surveys from the Broadway and Great Streets projects could be leveraged as a starting point. |
| Reduce sidewalk riding | Could be collected during bicycle volume counts | If sidewalk riding is reduced, this signals both cyclists feel safe on the street and pedestrians face fewer conflicts. |
| Eliminate bike-lane blocking | Would require some creativity – LADOT could possibly observe the corridor in the traffic control center known as ATSAC (automated traffic surveillance and control) and take a sample of times | The LA Taxi Commision is doing some enforcement for taxis blocking the bike lane by the convention center through asking people to submit a photo and use a hashtag on twitter and then following up with taxi companies. |
| Improved corridor understanding | Observe people at transit stops, crossing intersections and cycling to assess whether they understand how to use the corridor | MyFig contains many new-to-LA features (floating bus islands, for example) and ensuring that people understand how to use them is vital. |
| Reduce level of traffic stress | Using an established academic methodology for calculating this, does the street measure as less "stressful" after installation? | Not currently used in Los Angeles but more valuable than metrics like the Highway Capacity Manual multimodal level of service. |
Measuring success and conducting project evaluation is not solely an academic exercise. It's a vital part of project delivery for both agencies and advocates. When asked what data he would like the city to collect, Michael MacDonald of BiketheVoteLA, a long-time supporter of the project, said "I want the project evaluated. The city hasn't yet set up a method to evaluate MyFig so we can know what it got right and what needs to be improved."
Without creating such a framework that includes both objective and subjective quality information, the city cannot determine the 'completeness' for this complete streets project. And the whatever framework is adopted can't be just about the use data. Subjective information is just as important.
For example, the subjective data can help understand whether or not people who used MyFig before the improvements are experiencing a better street. While MyFig should invite new people to travel along the street safely without being in a car, project success should mean improving the experience for people who used it before too.
For Los Angeles to reach the goals outlined in its many adopted plans (2010 Bike Plan, 2035 Mobility Plan, SustainableLA Plan, Plan for a Healthy Los Angeles, 2018-2020 LADOT Strategic Plan), it needs to collect better data and turn that data into information. Absent that, policymakers and the public alike will not have a way to know if major investments like MyFig can be heralded as a success.