The little bus lane that could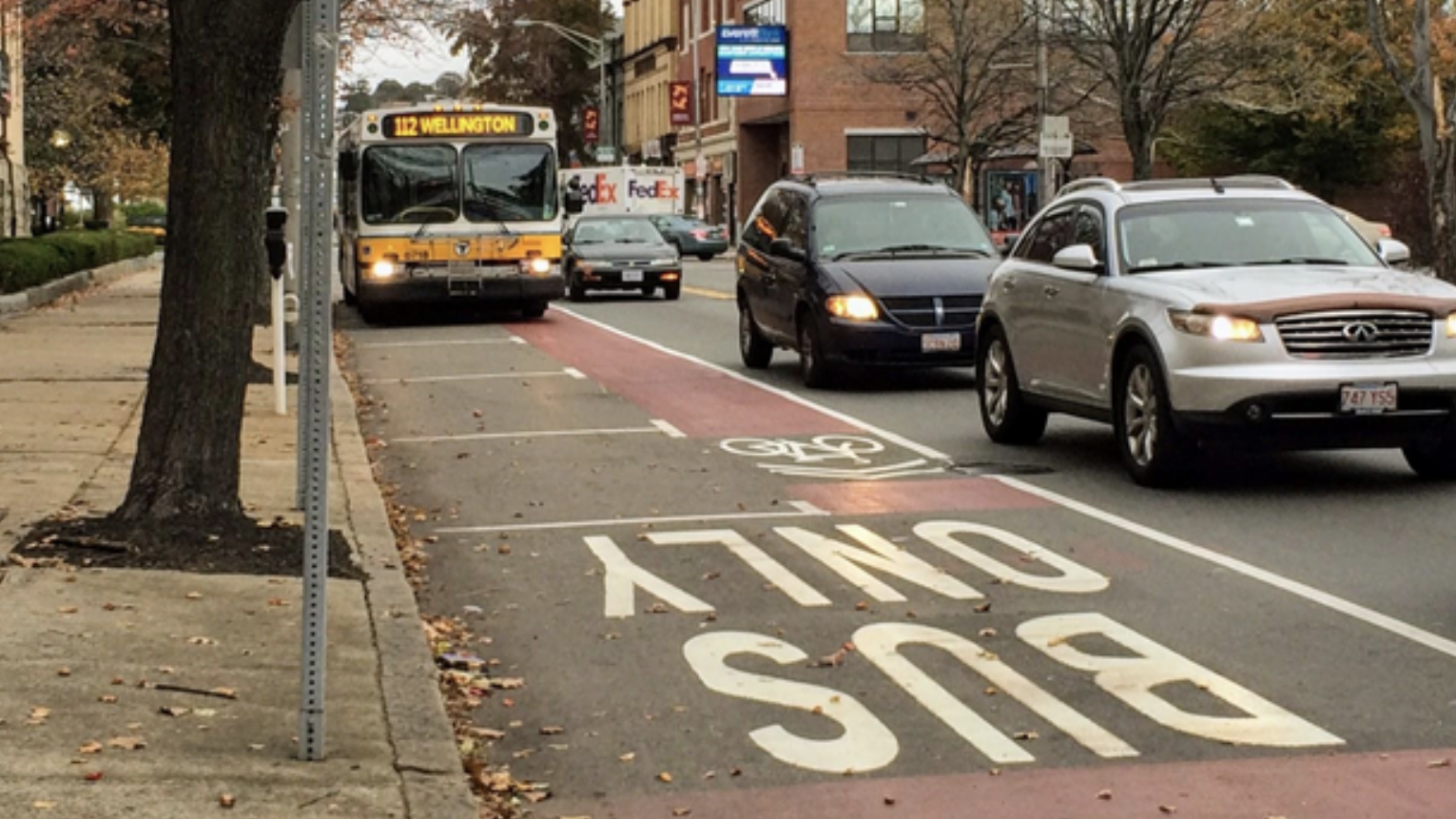 They might look like ordinary bus-only lanes, but Tactical Transit Lanes represent a new approach in tackling an old problem: how to speed up buses that get stuck in traffic.
What makes TTLs different — and "tactical" — is that they are bus-only lanes put in place to "fix" specific transit problems at specific places and at specific times where fine-grained operational data show that buses are slowed down and arriving less reliably. Most TTLs are less than a mile long and are bus-only only during commute hours. During other times, the lane becomes what it was before — typically an on-street parking lane.
To the rider, TTLs can make a congested commute noticeably shorter.  Planners in Arlington, Mass., measured riders' time savings at 5-10 minutes, a significant improvement for a TTL that is only a quarter-mile long. Perceived time savings were even greater: nearly 18 percent of riders estimated their time savings as more than 10 minutes. Similarly, Boston's 1.25-mile TTL improved travel times by 20 to 25 percent but "commuters said they saved anywhere from 10 to 15 minutes on their commutes and some as much as half an hour." Even when time savings are modest, riders can feel a difference: SFMTA's Mission Street riders saved an average two minutes per trip post-TTL, but perceptions of the time savings exceeded 10 minutes.  Because TTLs usually serve multiple bus routes, their benefit of a faster commute extends to as many communities as those bus lines reach.
Cyclists also benefit from TTLs. In cities where they are allowed to share the lanes with buses, cyclists get a less-busy and safer, wider lane where vehicles (buses) travel at about their same speed. But even where laws prevent bus-bike lane sharing, the widened parking lanes that TTLs require (so that buses can fit) give cyclists a buffer that makes it safer to cycle alongside parked cars when the TTL is not bus-only. In many cases, cyclists get an additional four to five feet of space thanks to the TTL.
To the planner, the TTL is a special kind of project. It's low-cost, low-stakes, quick to install, and easy to rip out if needed. The typical TTL costs around $100,000 and takes only a few months to plan and often only a few weeks to install. Some planners have started their TTLs as pilot projects using only orange cones and signs to demarcate the lanes. Testing TTLs with such reversible methods makes them easier for planners to champion in communities where there's concern or skepticism.
If the TTL doesn't perform or work as planned, crews need only pull up the cones or peel off the paint.  In fact, TTLs are so low stakes that at least one city (Everett, Mass.) opened their orange-cone pilot with no prior public outreach. Acknowledging that that's anathema to planners, Everett city planner Jay Monty explained that "the pilot was the process."
Even though they're reversible, most TTLs have remained in place. Since 2014, at least 17 cities have installed or piloted TTLs in metropolitan areas across the country, and to date, all but one continue to operate. Some have grown from their orange cone origin to full-fledged red lanes. In Everett, the TTL became a platform for further transit improvements including level-boarding, bus stop enhancements, and Transit Signal Priority.
Since TTLs typically use on-street parking lanes, this is often a community concern at first. TTL impacts to parking are usually overestimated, however. Parking studies often show that fewer customers are using on-street parking than business owners assume. Moreover, in many contexts, business hours do not conflict with TTL hours, which are most often during morning peak hours. Where conflicts still occur, successful strategies that planners have at their disposal include: shifting metering or commercial loading hours, changing neighborhood parking permit zones, and moving meters.
Almost by definition, TTLs are effective only when they are enforced. Methods that cities use for keeping cars out of the lanes range from simply relying on signage and/or red-painted lanes to identifying "hotspots" for police officers to monitor to using enforcement cameras on board buses.
As a transit project that improves a data-defined operational problem, the TTL is somewhat of a departure from the usual practice of improving transit service by expanding capacity for forecasted demand. The TTL is a relatively new approach, and most TTLs have been installed since 2016. It remains to be seen how many cities will adopt the TTL strategy but the permanence of most TTLs piloted so far suggests that planners are finding TTLs to be a successful strategy for making their city's streets more amenable to transit and their transit systems more useful to riders.
To read more about TTLs, please see UCLA Institute of Transportation Studies' recently completed Best Practices in Implementing Tactical Transit Lanes, which draws from interviews with 24 TTL planners and provides case studies of recent TTLs.
Featured image courtesy of City of Everett, MA. This TTL research was made possible by the funding of the University of California Institute of Transportation Studies Mobility Research Program by the Road Repair and Accountability Act of 2017 (SB 1), and the support of the State of California.