Metro Bike expands on the Westside with new dockless "smart bikes"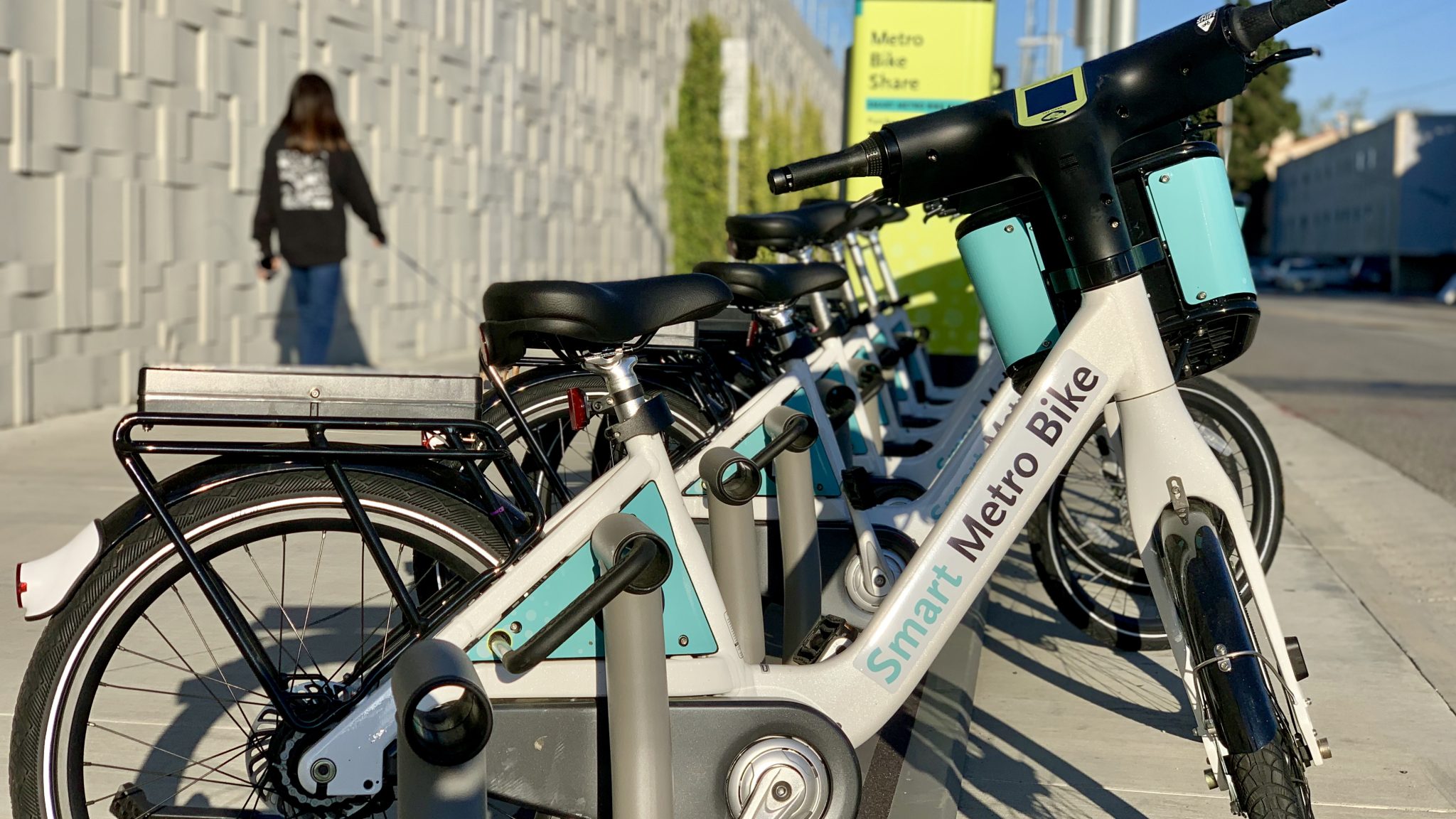 When Ciclavia closed long portions of Venice and Washington boulevards earlier this month, many people had the chance to ride around the Westside on a fancy new Metro Bike.
Metro Bike chose the open streets event to launch the expansion of its bikeshare program. Already available in Venice and portions of Santa Monica along the Expo Line, this expansion eastward was a move from traditional dock-based bikeshare to hub-based "smart bikes."
What makes this bike smart?
The smart bike fleet introduces a new technology to the existing system: payment and locking mechanisms are on the bikes themselves — functions formerly delegated to station kiosks. Each bike's U-lock, which allows riders to lock the bikes to racks outside of the hub areas, sits on the basket when the bike is in use.
Payment can be made through the Mero Bike Share app or through an enrolled TAP card, tapped to the touchscreen in the middle of the handlebars. The price for 30 minutes of riding is $1.75, the same as a transit fare, and going over the limit will just cost another $1.75 per half-hour. When in use, the screen displays data about the current ride, such as the amount of time left on the 30-minute rental period and the distance traveled.
The new bikes feature white paint jobs in order to differentiate them from the traditional, dock-based black Metro Bike branding. While they're smart, they are not electric: the Metro Electric Bike pilot program, which introduced dock-based electric pedal-assist bikes that are also white, is only in Downtown and Central LA.
Riding a Smart Metro Bike on the Westside? Lock your bike at a Smart Metro Bike Station or to a public bike rack to end your trip. It's FREE to lock your bike at any Smart Metro Bike station. Download the app for station and convenience fee information. https://t.co/fDANmCPWNd pic.twitter.com/wE9cRvuOsi

— Metro Bike (@BikeMetro) March 9, 2019
The expanded Metro Bike operating area on the Westside (below) looks eastward from the prior concentration along the coast and the Downtown Santa Monica and 16th St Expo Line stations.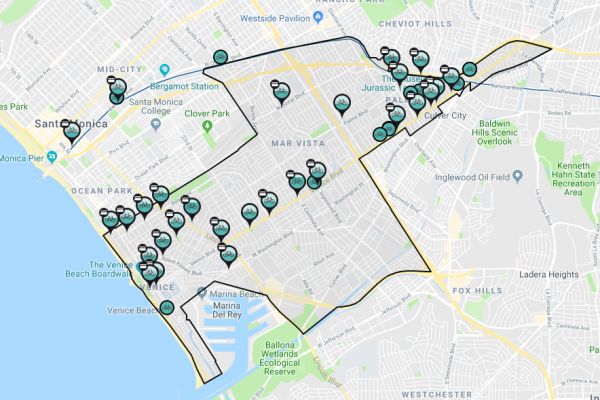 The semi-dockless model means that riders typically take the bikes to and from established hubs with small racks, but can also ride and lock them up anywhere within the service area (Palms, Venice, and Mar Vista) for a $2 convenience fee.
But how practical are the new dockless bikes as first/last mile options? You could ride one to the Expo Line, but you'd be limited riding one from it. As the map clearly shows, the service area is predominantly south of the Expo Line so riders wanting to venture into Culver City, Westwood or Santa Monica (aside from two stations) would face a challenge. Culver City particularly would be confusing for riders in Palms looking to head to destinations south of Venice Boulevard – and the service charge for ending a ride outside the area is $20. (Culver City voted in 2017 to add 28 bikeshare stations, but the timeline for this expansion, and the form it would take, is unclear.)
One early Westside Metro Bike rider, UCLA graduate student and Palms resident Peter Roquemore, is happy with the station locations and service area, but noted the additional dockless rules could use some extra clarity for new users.
"I'm a pretty bike share savvy individual and it took me too many clicks to figure out details on where I could ride, find a bike, how different charges worked," he said in an email. "I think a nice flier … with the basics would be a huge bonus for people."
Though the expansion is a welcome addition to the dockless mobility options on the Westside, the area has actually had no shortage of options since fall 2017. Santa Monica, UCLA/Westwood, Beverly Hills, and West Hollywood operate an interconnected hub-based bikeshare system called Bikeshare Connect. Scooters from Bird, Jump, Lyft, Lime, and most recently Wheels, offer electric per-minute options for short trips. Last fall Jump expanded its service area for fully dockless, electric bikes to cover the area from Westwood to Playa del Rey. What's emerged now is a complex mobility ecosystem that has introduced a high density of options, each with unique payment and service area considerations, in an area with uneven active transportation infrastructure. Compared to these options, however, Metro Bike's flat fee could offer riders a bargain for longer trips that might otherwise add up on per-minute pricing models.
Last April, Metro revealed that its bikes in Venice were being ridden about 1.2 times per day per bike, while bicycles in Downtown Los Angeles had only 0.7 rides per day per bike — a key metric for measuring bikeshare system usage. More active systems, such as Citibike in New York City or Capital Bikeshare in Washington, D.C., typically see rates as high as 3 to 4 rides per bike per day. The additional destinations, better coverage, and more flexible parking options could provide a boost to the system's western operating area. And around the central LA area, Metro and LA Department of Transportation is expanding its stations, reaching new neighborhoods like Koreatown, MacArthur Park and Silver Lake.