Q&A: Prioritizing equity in a rapidly changing transit system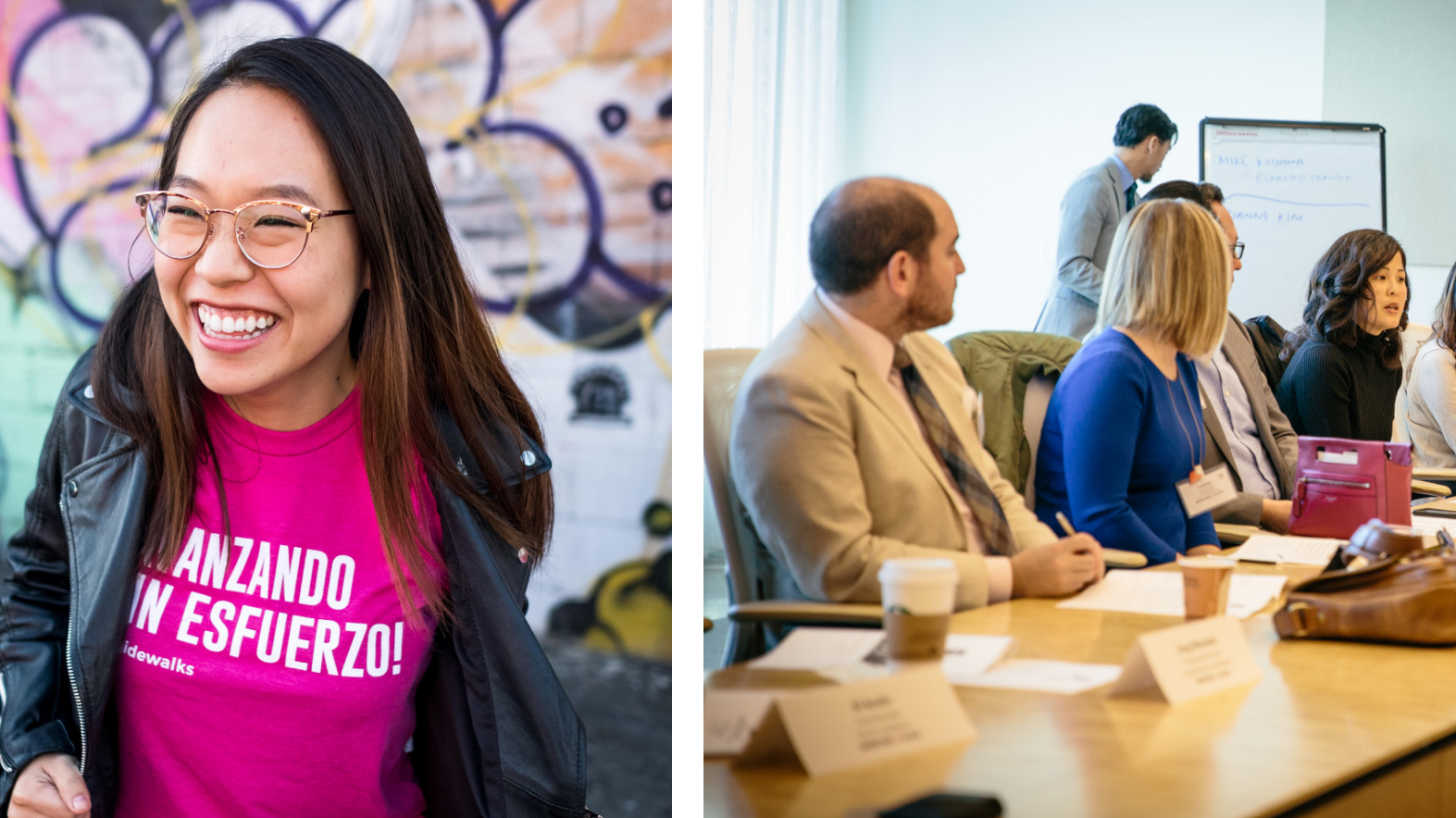 From new sales tax measures to the NextGen bus redesign project and pilot programs with new mobility providers, Los Angeles County is rapidly expanding its public transit system. But with these big investments and changes, which organizations are advocating for prioritizing equity in decision-making?
Enter Investing in Place. The Los Angeles nonprofit advocates for safe and livable communities through research, working groups and by providing technical assistance. Leading Investing in Place is Jessica Meaney, executive director and founder, who has been a transportation advocate in Los Angeles for 20 years. She discussed equity, transportation planning, and some of the issues she works on with The Circulator.
TC:  There are many different ideas of equity floating around in transportation planning; how do you define it?
JM:  At Investing in Place, all our work centers around equity and making sure we have a uniform vision of equity across the county. In 2016, we published a policy brief that lays out our framework of transportation equity and just growth. We look at three things: funding (who pays, who benefits, who has the burden), voices (whose experiences are validated, who is brought to the table), and analyzing future and past investments through environmental justice analyses and systemic injustices. We are highly influenced by the USC Dornsife report An Agenda for Equity, which outlined how race/ethnicity and income are the biggest identifying factors of historically disadvantaged communities.
A common clarification we find ourselves and partners making is the difference between "equity" and "equality." Many policymakers are comfortable with—and used to—dividing resources in equal amounts across the region, regardless of starting points and outcomes. This is equality. But equity may require dividing resources in different amounts across the region, understanding that different communities have different starting points and therefore differing amounts of resources that lead to equal outcomes.
TC:  One of the big campaigns you've worked on is Los Angeles' sidewalks repair policy. Can you tell us about that effort?
JM:  The City of Los Angeles has about 11,000 miles of sidewalks, which haven't been maintained since the 1970s. Since 2009, and likely many years before that, sidewalks, crosswalks, and bike lanes received less than 1 percent of all annual transportation funds each year (per Metro's 2009 Long Range Transportation Plan), despite walking accounting for about 17-18 percent of all trips in Los Angeles County, according to the National Household Travel Survey. That is a huge mismatch, which is slowly being fixed.
But what really gets me about this issue are the safety and accessibility concerns. In the City of Los Angeles, close to 48 percent of all roadway deaths are people walking, rolling or bicycling—with concentrations in low-income neighborhoods and communities of color. So, we really need to address this, right now. The City of LA faced the largest class action suit on inaccessible and broken sidewalks in the country, which is why Los Angeles finally has a plan to fix the sidewalks, but it's slow-moving. It's a 30-year plan and over $1 billion. That's the same cost as widening the 405 [Freeway], and we did that. Given that, we want to see this program have a faster implementation, not a 30-year timeline.
TC:  Speaking of accelerating projects, what are your thoughts on Metro's Twenty-Eight by '28 proposal to complete 28 major road, transit and bicycle projects before the 2028 Summer Olympics?
JM:  We think it's important to look at these proposals and really think through what's going on. What projects are being accelerated, what is the purpose of that and who do they serve? How will these projects improve outcomes on access, safety and social equity? Additionally, who is deciding which projects get accelerated, and who gets a seat at the table? We recently submitted a joint letter from 27 organizations to the Metro board encouraging them to look at equity when making policy decisions and allocating resources.
Through this process, we're rethinking how we finance transportation improvements. We're not going to finance these projects from the four sales taxes we already approved, but instead exploring alternative sources like taxing TNC trips or bumping up advertising on Metro. What I'm excited about that's getting more steam and coverage is congestion pricing. Our current monoculture of driving isn't working for everybody; it isn't equitable or sustainable, and the way we set congestion pricing can be part of a bigger solution. But the big question is how we will use those revenues, and again, who gets to decide.
TC:  Do you have any best practices, tips and strategies on community outreach and engagement?
JM:  Across the profession, we have a long way to go to improve our outreach methods. Ideally, we'd also like to uplift professionals who directly represent impacted communities. Policymakers also need to be more upfront and honest about decision making points—does the input received from a community even move the money? And overall, we need to go from having conversations about infrastructure to conversations about values that will help us achieve more systems change rather than just cut ribbons on infrastructure projects.
This interview was edited for clarity and length. Photo credit: Investing in Place 2018-2021 Strategic Plan.