METRANS students produce award-winning traffic safety video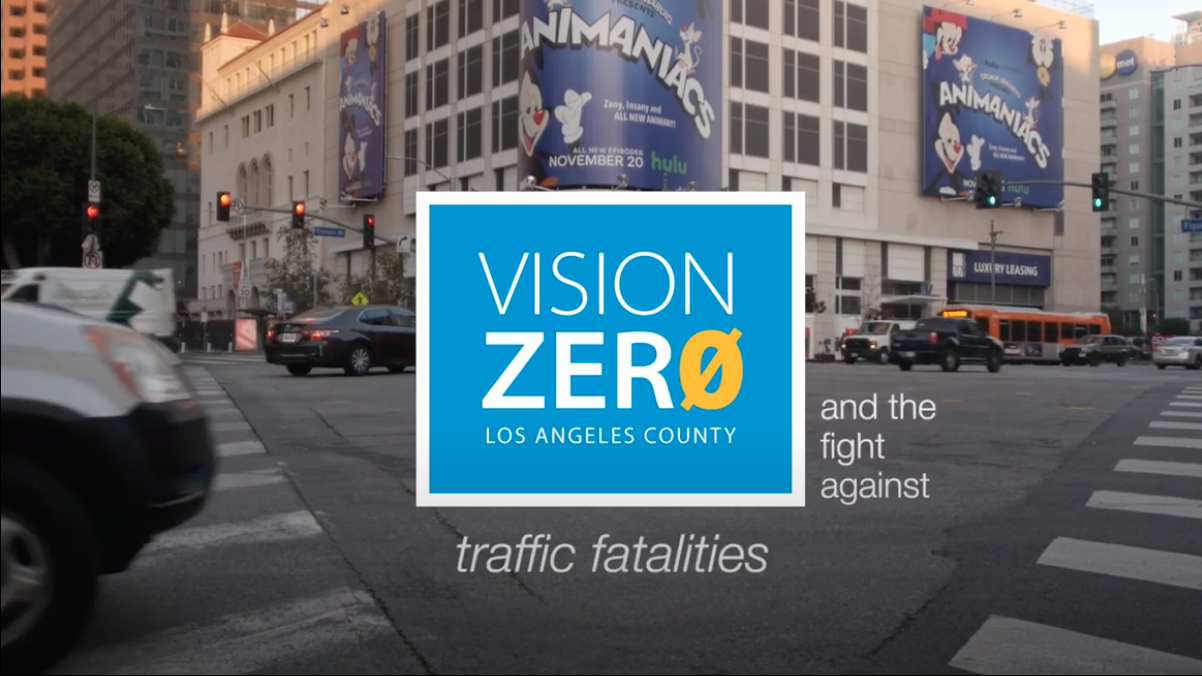 by Reaghan Murphy, USC, Master of Urban Planning 2021
Congratulations to the METRANS Student Team for winning second place in the Post Secondary, Transportation Safety category of the American Road and Transportation Builders Association's (ARTBA) 2020 Student Video Contest. ARTBA hosts this annual contest to engage K-12 and post-secondary students in the creation of short videos in the categories of General Transportation and Transportation Safety highlighting the crucial nature of transportation in the U.S. as well as to inform those looking to learn more about these disciplines.
The award-winning METRANS video emphasizes the importance of traffic safety initiatives, with emphasis on Vision Zero, a global initiative which aims to eliminate traffic fatalities worldwide. METRANS Media Team member and University of Southern California (USC) School of Cinematic Arts student Ben Ephraim led the creation and produced of the METRANS student submission.
In addition to original transportation video footage, the content features interviews and narrative from both students and alumni of the University of Southern California Sol Price School of Public Policy. Highlighted in the video are current Master of Urban Planning (MUP) students Alex Melaragno and Reaghan Murphy, both of whom work for the Los Angeles Department of Transportation's Vision Zero Division as Student Professional Workers, and Jose Richard Aviles, MSW/MPL, who graduated from the Price School in 2019 and serves the Vision Zero Division as a Community Engagement Specialist.
The video introduces viewers to Vision Zero Los Angeles, Los Angeles Mayor Eric Garcetti's initiative to eliminate all traffic fatalities on Los Angeles city streets by the year 2025. The students share that in Los Angeles, more than 200 people are killed each year in traffic-related fatalities–a statistic which disproportionately features pedestrians, cyclists, children, seniors, and people of color–and note that like other Vision Zero initiatives in cities around the world, Vision Zero Los Angeles operates according to several guiding principles:
People will make mistakes on the road.
The consequences of these mistakes should not be death or severe injury.
Reducing vehicle speed is fundamental to safer streets.
As explored in the METRANS video, traffic fatalities are not only a devastating reality of modern transportation systems but are also a symptom of the systemic racism and oppression to which communities of color have been and are continually subjected. In Los Angeles, historically redlined communities now experience significantly higher rates of traffic collisions and fatalities. The High-Injury Network (HIN), a network of Los Angeles streets which suffer the highest rates of fatal or severe collisions per mile, only comprises six percent of Los Angeles city streets but falls overwhelmingly into low-income communities of color.
The students further explain that Vision Zero Los Angeles strives to address these inequities and create safer streets for all road users by implementing transportation planning and design interventions on HIN streets. Each HIN corridor is analyzed for the types of collisions occurring and the people involved in collisions (whether pedestrian, cyclist, driver, or otherwise) to identify countermeasures that may help curb dangerous behaviors. The planning strategies implemented by Vision Zero Los Angeles (provided in the Vision Zero Safety Toolkit) aim to reduce vehicle speeds, improve pedestrian safety and comfort, make the street more accessible for disabled and vulnerable road users, and reduce potential confusion or conflicts between pedestrians, cyclists, and drivers.  Once a corridor is analyzed and possible interventions are identified, Vision Zero Los Angeles enacts robust community engagement efforts to understand how local communities travel along their street and what they desire from Vision Zero projects. Led by Aviles, Vision Zero Los Angeles is also developing a Spanish glossary of transportation planning terminology that will help improve language justice and accessibility in planning and engagement efforts.
With Vision Zero initiatives springing up in cities across the country and the world, it is clear that transportation professionals and users alike are realizing the urgency of addressing traffic collisions. As Vision Zero Los Angeles continues to facilitate this transportation revolution for safer, more equitable streets for all, it is the hope of the METRANS team that this award-winning video can elevate awareness of this critical issue and inspire other cities to join the fight against traffic fatalities.
This article was previously posted on METRANS.org.
About the Author:
Reaghan Murphy is a second-year Master of Urban Planning student at the USC Price School of Public Policy concentrating in mobility and transportation planning. She currently is the Student Director of the METRANS Mentor Program.